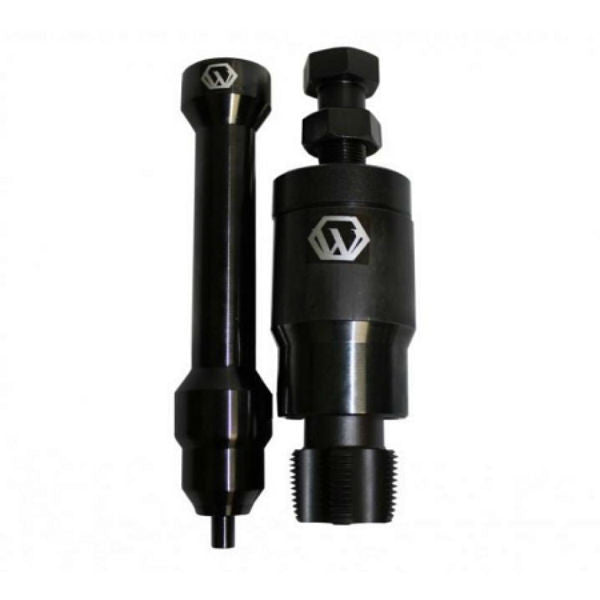 Ford PowerStroke 7.3L Injector Sleeve Puller / Drive Set
---
---
This item generally ships in 3 to 5 business days. Contact us for exact shipment times.
Ford PowerStroke 7.3L Injector Sleeve Puller / Drive Set
The 7.3L Sleeve Puller and Driver set, will provide mechanics with the ability to replace the Ford 7.3L diesel injector sleeves within 3-5 hours. It is a "must-have" for any mechanic.




Product Weight: 2.0 lb
Ford PowerStroke 7.3L Injector Sleeve Puller / Drive Set is currently in stock and ready to ship within 24 business hours.
We are currently only shipping to addresses in Canada.
We offer free shipping to provinces in Canada on all orders over $200.00 and taxes are charged based on your provinces tax %. Items are shipped via Purolator Ground. Delivery dates are good faith estimates only and are quoted in "business days"; this does not include weekends and statutory holidays. PO Box addresses are not acceptable for delivery. For shipping to the Northern Territories, please e-mail us first for a rate quote.
Free pick-up is available at our Edmonton location but you must provide your order number and show your identification.
All orders under $200.00 are subject to a $25.00 shipping fee.
For expedited shipping and more details, click on the link below:
---
Ford PowerStroke 7.3L Injector Sleeve Puller / Drive Set
Top spacer of the tool was too thick and did not allow the die to thread into injector sleeve enough. had to replace the spacer with a washer so could achieve the required number of turns of the die into the sleeve.. other than that the tool worked great, removed all 8 sleeves with relatively no problem.
Hi Alistair,
Sorry the tool didn't work exactly as needed right out of the box but I am glad you were able to figure it out and get the job done! If you need anything else just let us know.
---
---